Miami-Dade County Judge Michelle Barakat appointed to Eleventh Circuit Court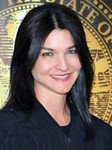 On March 27, 2019, Governor Ron DeSantis announced the appointment of Michelle Alvarez Barakat to the Eleventh Judicial Circuit Court.
Bakarat, 47, originally from Miami Beach, is a Cuban-American judge serving on the Miami-Dade County Court since 2013. She received her bachelor's degree and her law degree from the University of Miami. Barakat fills the vacancy created by the elevation of Judge Eric Hendon to the Third District Court of Appeal.
Source: flgov.com